What we repair
Is MacBook® not doing its thing?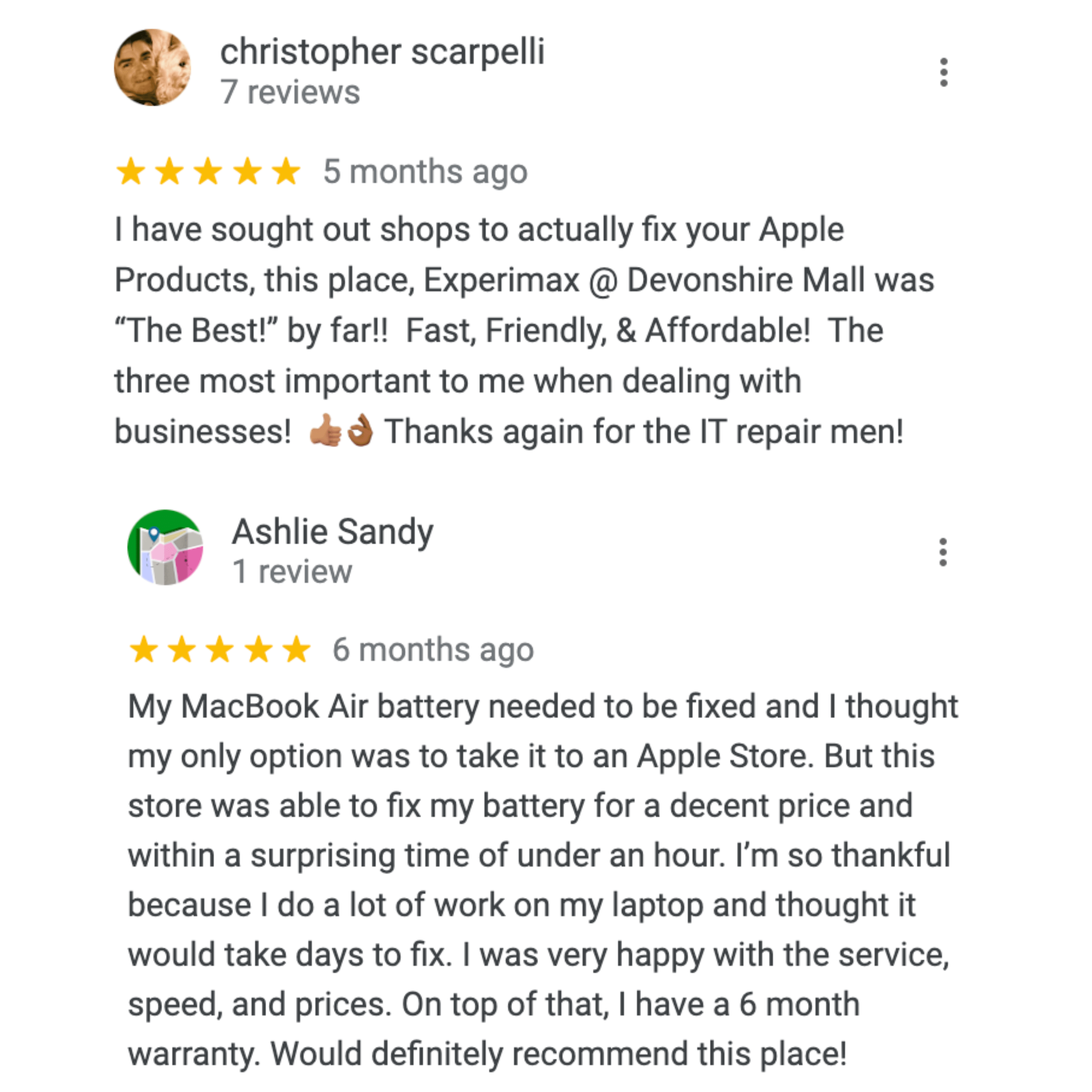 What we repair
Is MacBook® not doing its thing?
We all know how fast the tech industry moves. Not ready to buy a new laptop? We keep your Apple MacBook & other Laptops in the race and give you the power to do what you need. Our Experimax experts can fix all your glitches and will boost your performance capabilities.
Is your MacBook®/Windows laptop in need of an upgrade? A new battery, faster ram, or a larger hard drive it may be time to give your MacBook®/Windows laptop a serious boost! Whether you're looking for a faster experience when launching programs or if you need more room to store all of your pictures and videos - Experimax has you covered.
MacBook®/Windows laptops are one of the most common Mac®/Windows products but they're not without their faults. MacBook Pro® batteries fail often and they are known to run hot. These common issues can be the sign of even bigger problems.
Bring your MacBook/Windows laptop into a local Experimax for a thorough assessment.
We can find what might be in need of repair or make suggestions on how to get your MacBook®/Windows laptop running like it's brand new! We provide repair and upgrade services for the following MacBook® laptop models:
13" MacBook® laptop (2009+)
15" MacBook® laptop (2008+)
17" MacBook® laptop (2009-2011)
Mac® Pro® laptop (2006+)
Mac® mini laptop (2006+)
MacBook Air® laptop (2010+)
MacBook® laptop (2006+)
Come in and see us face to face or give us a call. We run a diagnostic while you wait and work to get your MacBook/laptop fully functioning again. Experimax's technicians are highly experienced, use high-quality parts and love your Apple as much as you do.
We offer a 180-day functionality warranty on MacBook screens and batteries*.
Experienced technicians
Don't entrust such an important device to just anyone. Our expert technicians follow strict procedures to ensure that we'll get your MacBook/laptop back up and running as it should. We have specialist diagnostic tools that we use that will pinpoint any areas that can be improved.
Upgrades for better performance
Getting the spinning wheel of death? Bring in your MacBook® and we'll run some diagnostics on it to see how we can improve its performance.
Looking for a MacBook | Laptop repair?
Get Quote!
Kindly provide the following details